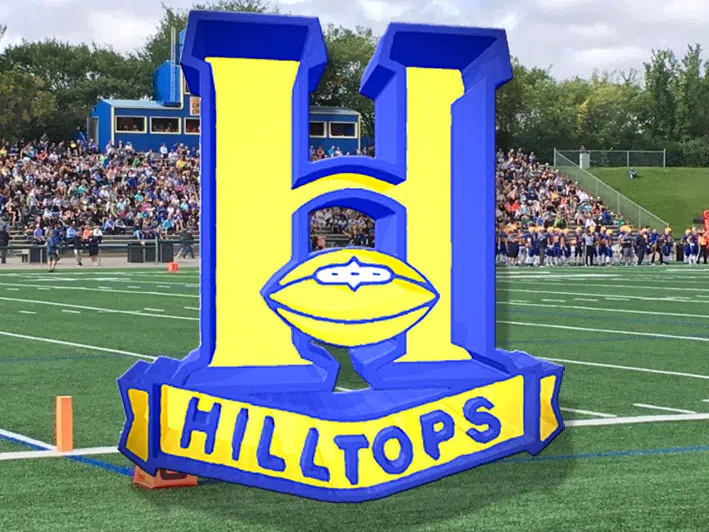 The Saskatoon Hilltops open the 2018 Prairie Football Conference regular season Saturday night in Regina.
The team has been known over its dynasty building years for its "ground and pound" offense.
Head Coach Tom Sergeant who is also the offensive coordinator has built the team's offensive attack in past years around the ground game.
However All-Canadian running back Logan Fischer has graduated and Adam Machart has joined the U-of-S Huskies after an outstanding season that included 683 yards with an average of over 8-yards-a-carry.
Receivers David Solie and Keegan Dicks are among the top recruits from the off-season. Sergeant added the growth of quarterback Jordan Walls suggests the offense could be built around the passing game.
"From last year to this year he just looks way different," said Sergeant who said Walls was impressive in training camp and the alumni game.
"He can see things, he understands and he puts the ball in the right spot so there is no question you are going to see us throw that ball a little bit more and in the old days we used to run to set up the pass, I think we have a better opportunity to pass to set up the run."
Sergeant also said back-up quarterback from last year Kelton McLean has embraced his new role inherited from graduating fullback Colin Stumborg on the "slam" offense.
The defense looks solid with linebacker Cody Peters coming off his Saskatchewan Roughriders training camp experience and defensive back Colton Holmes as the anchors, with lineman Jesse McNabb also stepping into the spot vacated by the graduating Tom Schnitzler as long snapper.
The Toppers are going for an unprecedented fifth straight Canadian Bowl championship. Sergeant is excited about the team coming out of training camp but said the focus is solely on a "drive for one".
"We've got the right people on the bus. It's very critical for the players to keep the eye on the prize. We're not worried about five because we've got four, we're worried about this one," said Sergeant who pointed out any successful season means overcoming adversity as well as growing and improving as a team in the locker room and on the field.
"We've got to stay focused, we've got to stay humble, stay healthy, and you know what, we've just got to go out and do our jobs and if we're fortunate enough to do that, usually good things happen for the Hilltops at the end of the year."
Opening kick-off Saturday at Mosaic Stadium is at 7 p.m. The broadcast on 92.9 THE BULL signs on at 6:30.