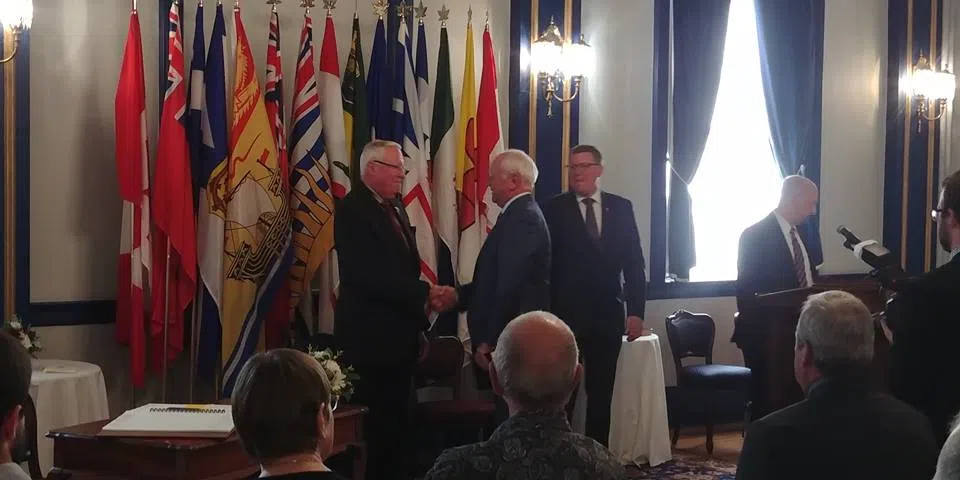 Saskatchewan's new Agriculture Minister is very familiar to anyone who follows rural municipal politics.
David Marit was the President of the Saskatchewan Association of Rural Municipalities between 2006 and 2014.
The Wood River MLA becomes only the third Agriculture Minister since the Saskatchewan Party was first elected in 2007. Marit replaces Lyle Stewart, who is undergoing cancer treatment and decided to resign from cabinet for health reasons.
"I hope I can do the job anywhere near what the previous two ag ministers did. Bob Bjornerud and Lyle Stewart have done so much for agriculture in this province. I can only hope to continue on the great work these to gentlemen have done."
Like the other two, Marit has a direct connection to the family farm, about 130 kilometres southwest of Moose Jaw.
I've been a farmer all of my life and agriculture has been my life. For the Premier to bestow this honour upon me is really humbling for me."
Marit had been the Minister of Highways. That cabinet portfolio will go to Estevan MLA Lori Carr.
(Photo: David Marit being sworn in by Lieutenant Governor Tom Molloy at Government House on August 15, 2018. Photo taken by Ryan McNally/CKRM)