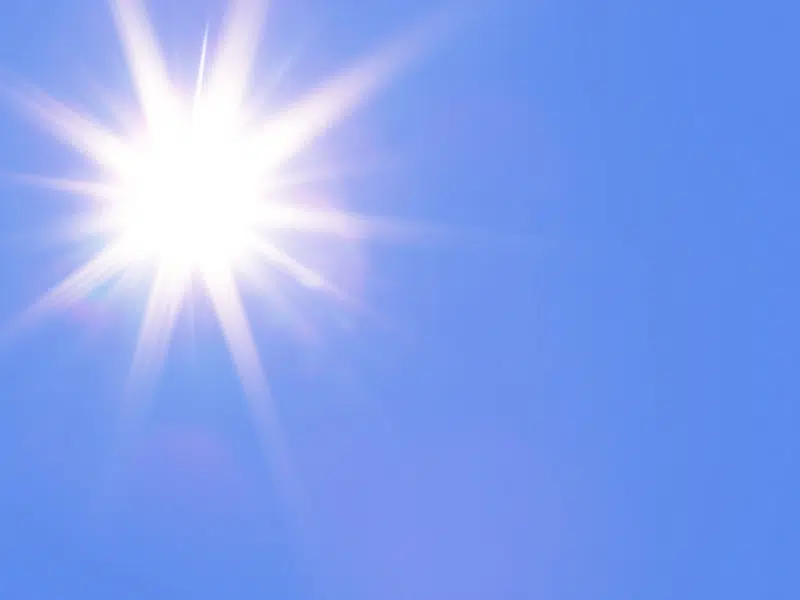 Friday was a very hot day throughout Saskatchewan with many communities breaking temperature records for August 10th. Terri Lang, a meteorologist with Environment Canada says Swift Current not only break a temperature record for August 10th but they broke their all-time record at 40 degrees Celsius.  In Saskatoon, things weren't quite as hot as the Swift Current area with the temperature rising to 38.2 degrees breaking the previous record of 37.7 set on August 10th in 1984. Lang says having a blanket of smoke across the province kept temperatures from rising any higher than they already did. She adds that the ridge of high pressure is expected to break down and that will allow for less smoke to be in the province although more heat records are expected to be broken Saturday before temperatures cool down and before the smoke dies down.
"It's the upper winds and the direction of the upper winds that determine whether the smoke comes our way or goes somewhere else. So, the weather pattern that we've had over the last couple days has been directing the smoke right over top Alberta, Saskatchewan and Manitoba. It's also the stability of the atmosphere, it's also trapping the smoke down, the smoke isn't allowing it to dissipate , so that's why we're seeing so much of it (smoke). Over the next couple of days a ridge of high pressure that's been giving us the hot weather and the smoke is expected to break down and move eastward."
Lang says it was also a hot day for residents in Alberta Friday as Calgary broke an all-time record with a temperature of 36.5 degrees breaking the previous record of 36.1. Calgary has been keeping track of temperatures since the year 1881.
Below is a complete list of Saskatchewan communities that broke records for August 10th:
ASSINIBOIA
NEW RECORD OF 40.1
OLD RECORD OF 36.7 SET IN 1988
CORONACH
NEW RECORD OF 39.5
OLD RECORD OF 36.5 SET IN 1998
CYPRESS HILLS (PROVINCIAL PARK)
NEW RECORD OF 36.1
OLD RECORD OF 33.5 SET IN 1984
ELBOW
NEW RECORD OF 38.5
OLD RECORD OF 37.0 SET IN 1998
INDIAN HEAD
NEW RECORD OF 35.6
OLD RECORD OF 35.0 SET IN 1915
LEADER
NEW RECORD OF 38.6
OLD RECORD OF 38.5 SET IN 1984
LAST MOUNTAIN LAKE
NEW RECORD OF 36.5
OLD RECORD OF 35.6 SET IN 1978
LUCKY LAKE
NEW RECORD OF 39.9
OLD RECORD OF 36.1 SET IN 1978
MAPLE CREEK
NEW RECORD OF 40.1
OLD RECORD OF 36.0 SET IN 1984
MOOSE JAW
NEW RECORD OF 39.8
OLD RECORD OF 36.3 SET IN 1984
REGINA
NEW RECORD OF 36.4
OLD RECORD OF 35.4 SET IN 1978
ROCKGLEN
NEW RECORD OF 38.6
OLD RECORD OF 35.7 SET IN 1998
ROSETOWN
NEW RECORD OF 39.1
OLD RECORD OF 38.0 SET IN 1984
SASKATOON
NEW RECORD OF 38.2
OLD RECORD OF 37.7 SET IN 1984
SWIFT CURRENT
NEW RECORD OF 40.0
OLD RECORD OF 37.0 SET IN 1984
WATROUS
NEW RECORD OF 36.0
OLD RECORD OF 34.5 SET IN 1978
WEYBURN
NEW RECORD OF 37.2
OLD RECORD OF 35.6 SET IN 1998
WYNYARD
NEW RECORD OF 35.1
OLD RECORD OF 34.3 SET IN 1978