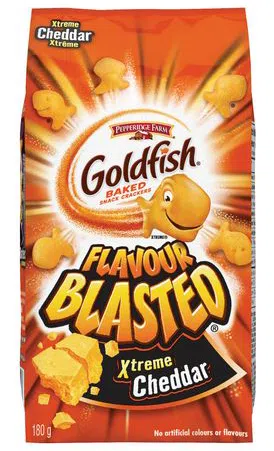 Campbell Company of Canada is recalling Pepperidge Farm brand Goldfish Flavour Blasted Xtreme Cheddar Crackers from the marketplace due to possible Salmonella contamination. Health Canada says if you think you became sick from consuming a recalled product, call your doctor. It is recommended that if you have the recalled products in your home, throw it out or return it to the store from where it was purchased.
There have been no reported illnesses associated with the consumption of these products.  The Canadian Food Inspection Agency (CFIA) says food contaminated with Salmonella may not look or smell spoiled but can still make you sick.
This comes on the heels of a recall of Ritz Cracker products. That recall affects Ritz Bits Cheese, Ritz Cheese Cracker Sandwiches, Ritz Bacon Cracker Sandwiches with Cheese, Ritz Whole Wheat Cracker Sandwiches with White Cheddar Cheese, Ritz Everything Cracker Sandwiches with Cream Cheese, and Mixed Cookie variety. The products have expiration dates of January 14, 2019 to April 13, 2019.
Mondelez Global, the manufacturer for Ritz, says the products contain whey powder, which the whey supplier has recalled because of the salmonella risk.
CFIA says Salmonella poisoning may cause young children, pregnant women, the elderly and people with weakened immune systems may contract serious and sometimes deadly infections. Healthy people may experience short-term symptoms such as fever, headache, vomiting, nausea, abdominal cramps and diarrhea. Long-term complications may include severe arthritis.
http://www.inspection.gc.ca/about-the-cfia/newsroom/food-recall-warnings/complete-listing/2018-07-23/eng/1532401516043/1532401519489