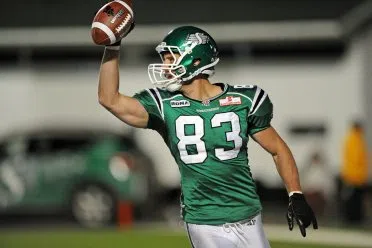 Canadian receiver Andy Fantuz (pictured) is retiring after 12 seasons in the C-F-L.
He scored 44 touchdowns over his career with Saskatchewan and Hamilton. Fantuz played in five Grey Cup games and won a title in 2007 with the Roughriders.
Elsewhere, defending champion Canada is through to the final of the World Lacrosse Championship after a convincing 15-4 win over the Iroquois Nationals today in Israel. Saskatchewan Rush forward Ben McIntosh piled up three goals and two assists for the Canadians who will face the United States in Saturday's final.
Meanwhile, the Prairie Wolfpack has recorded their first win, after a pair of losses to start the Canadian Senior Women's Rugby Championship. The host Wolfpack downed the Ontario Blues 24-17 at the Saskatoon Rugby Club.