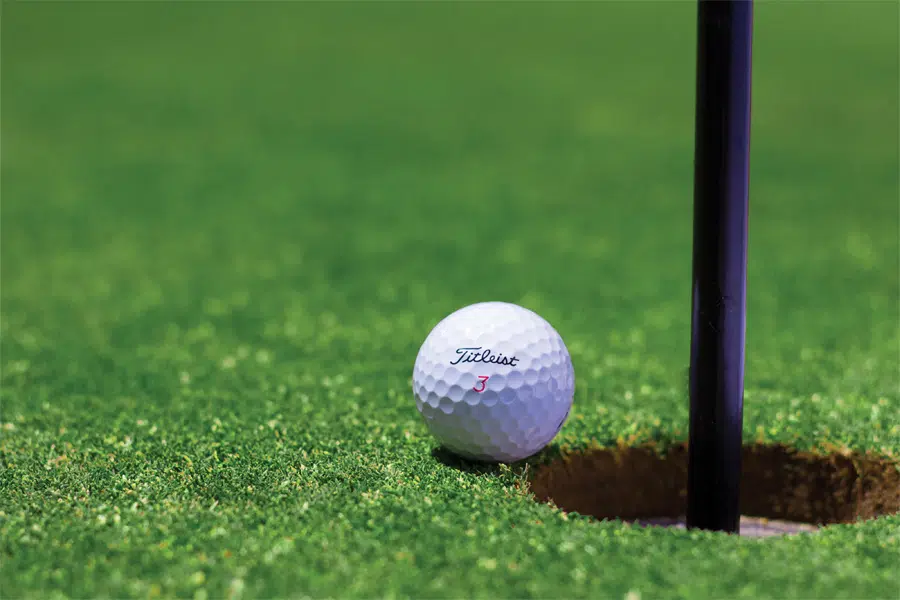 The Provincial Junior Golf Championships wrap up Wednesday at Moon Lake.
Going into the final round in the Junior Men's division, Josh Nagy leads by three strokes over fellow Saskatoonian Bradley Moser. The 16-year-old Nagy carded a four under-par 68 yesterday for a 36-hole total of even-par 144. First round leader Connor Scissons shot a 77 and is tied for third at 148 with 14-year-old Braden O'Grady of Edmonton.
On the girls side, Carey Mclean of Deer Valley holds a one-stroke lead over Ella Kozak of Yorkton and Brooklin Fry of Shell Lake. The 16-year-old Mclean shot an 81 yesterday for a two-day total of 165 while 13-year-old Fry carded a second consecutive 83 and 12-year-old Kozak had the low round of the day…a 78!
       The girls start their final 18 holes around 11 this morning…after all the boys have teed off. Following are the leaderboards from Golf Saskatchewan…
68th SK Junior Women's Championship
92nd SK Junior Men's Championships
Pos
Player

Today

Thru
Total
R1
R2
R3
Total
1

Josh Nagy

 

Saskatoon, SK
–
–
E
76
68
144
2

Bradley Moser

 

Saskatoon, SK
–
–
+3
76
71
147
T3

Braden O'Grady

 

Edmonton, AB
–
–
+4
76
72
148
T3

Connor Scissons

 

Saskatoon, SK
–
–
+4
71
77
148
5

Colby Friedrich

 

Battleford, SK
–
–
+5
76
73
149
6

Adam Husli

 

Regina
–
–
+6
73
77
150
7

Jace Carlisle

 

Estevan, SK
–
–
+8
76
76
152
8

Brody Istace

 

Kindersley, SK
–
–
+9
77
76
153
T9

Rylee Isley

 

Calgary, AB
–
–
+10
82
72
154
T9

Parker Noln-Ens

 

Warman, SK
–
–
+10
81
73
154
T9

Cole Obrigewitsch

 

Deer Valley, SK
–
–
+10
79
75
154
T9

Connor Tate

 

Kindersley, SK
–
–
+10
75
79
154
13

Steven Duchscher

 

Saskatoon, SK
–
–
+11
78
77
155
T14

Andrew C Campbell

 

Saskatoon, SK
–
–
+12
80
76
156
T14

Tian Rask

 

Corman Park, SK
–
–
+12
79
77
156
16

Tj Baker

 

Prince Albert, SK
–
–
+13
80
77
157
T17

Riley Lahey

 

Lacadena, SK
–
–
+14
83
75
158
T17

Logan Chernoff

 

Estevan, SK
–
–
+14
82
76
158
19

Griffin Wilson

 

Swift Current, SK
–
–
+15
80
79
159
20

Ben Zultok

 

Prince Albert, SK
–
–
+16
84
76
160
T21

Chase Gedak

 

Estevan, SK
–
–
+17
85
76
161
T21

Jack Hodson

 

Riverside Estates, SK
–
–
+17
79
82
161
23

Rory Huycke

 

Calgary, AB
–
–
+18
82
80
162
T24

Keighton McNab

 

Saskatoon, SK
–
–
+20
81
83
164
T24

Kaden Clifton

 

Regina, SK
–
–
+20
79
85
164
T26

Karter Ambrosichuk

 

Prince Albert, SK
–
–
+21
88
77
165
T26

Zach Zabot

 

Wabasca, AB
–
–
+21
81
84
165
T26

Kyler Cote

 

Kindersley, SK
–
–
+21
79
86
165
29

Kyle Krzysik

 

White City, SK
–
–
+23
84
83
167
T30

Adam Kydd

 

Regina, SK
–
–
+25
86
83
169
T30

Reegan Robinson

 

Estevan, SK
–
–
+25
85
84
169
T32

Cole Nagy

 

Saskatoon, SK
–
–
+28
87
85
172
T32

Owen Sumner

 

Saskatoon, SK
–
–
+28
88
84
172
34

Drew Fenwick

 

Estevan, SK
–
–
+30
90
84
174
35

Cole Jenkins

 

Prince Albert, SK
–
–
+32
90
86
176
36

Cody Huntley

 

Prince Albert, SK
–
–
+34
93
85
178
37

Kael Leachman

 

Prince Albert, SK
–
–
+36
91
89
180
38

Jacob Kydd

 

Regina, SK
–
–
+37
97
84
181
39

Ryan Chernoff

 

Estevan, SK
–
–
+39
92
91
183
40

Ryder Cameron

 

Duck Lake, SK
–
–
+42
90
96
186
41

Hudson Chernoff

 

Estevan, SK
–
–
+57
98
103
201
42

Dawson Klughart

 

Prince Albert
–
–
+70
101
113
214