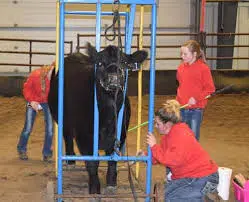 More than 130 4-H members participated in the Prairieland Junior Ag Showcase in Saskatoon.
Here are the results from the Saturday and Sunday events:
BEEF HEIFER SHOW
Grand Champion Female
Calina Evans, Prime Cut 4-H Beef Club
Reserve Grand Champion Female
Brynn Whelan, Catherwood 4-H Beef/Sheep Club.
JUNIOR SHEEP SHOWCASE
Grand Champion Market Lamb
Danielle Matonvich, Catherwood Beef/Sheep Club
Reserve Champion Market Lamb
Caybri Letkman, Crown Hill Beef/Sheep Club
DAIRY HEIFER SHOWCASE
Champion Female
Faith Friesen, Drake, SK
Reserve Champion Female
Travis Pruim, Sask Valley 4-H Dairy Club
JUNIOR JUDGING SWEEPSTAKES
Contestants were divided into the following age groups;
Junior (9 ‑ 12)
Intermediate (13 ‑ 14)
Senior (15 ‑ 21)
The 4-H members judged and gave oral reasons on five different livestock groups—-dairy,sheep, beef heifers, heavy horses and market hogs.
HI‑POINT JUNIOR:
Kira Wignes, Viscount 4H Beef Club
HI‑POINT INTERMEDIATE:
Jessica Davey, Vanscoy Multiple 4-H Club
HI‑POINT SENIOR:
Shelby Evans, Prime Cut 4H Beef Club
4-H BEEF TEAM GROOMING COMPETITION
WINNING SENIOR TEAM:
Prime Cut 4H Beef Club
Kennedi Libke
Leah Libke
WINNING INTERMEDIATE TEAM:
Hanley 4H Beef Club
Cadence Haaland
Riley Bohrson
Hayes Vermette
WINNING JUNIOR TEAM:
Hanley 4H Beef Club
Sienna Bohrson
Kylie Willms
Callie Steen
4-H LIGHT HORSE SHOWCASE (DAY 1 OF 2 DAY SHOW)
July 4, 2018
SHOWMANSHIP & GROOMING
SENIOR Brittany Krammer, RRRR 4-H Multiple 4-H Club
INTERMEDIATE Jayde Dewhurst-Martin, RRRR 4-H Multiple 4-H Club
JUNIOR Keeley Martens, 4 Ever R 4-H Club
ENGLISH PLEASURE
SENIOR Megan Moody, RRRR 4-H Multiple 4-H Club
INTERMEDIATE Jayde Dewhurst-Martin, RRRR 4-H Multiple 4-H Club
JUNIOR Makayla, Bueckert, Herds of Thunder
EQUITATION
SENIOR Brittany Krammer, RRRR 4-H Multiple 4-H Club
INTERMEDIATE Lisa Bannerman, Equine Elite
JUNIOR Keeley Martens, 4 Ever R 4-H Club
WESTERN PLEASURE
SENIOR Kelsey Conant, RRRR 4-H Multiple Club
INTERMEDIATE Jayde Dewhurst-Martin, RRRR 4-H Multiple 4-H Club
JUNIOR Payten Keyowski, Canwood 4-H Light Horse Club
HORSEMANSHIP
SENIOR Brittany Krammer, RRRR 4-H Multiple 4-H Club
INTERMEDIATE Jayde Dewhurst-Martin, RRRR 4-H Multiple 4-H Club
JUNIOR Keeley Martens, 4 Ever R 4-H Club
TRAIL
SENIOR Brittany Lysitza, RRRR 4-H Multiple Club
INTERMEDIATE Jayde Dewhurst-Martin, RRRR 4-H Multiple 4-H Club
JUNIOR Payten Keyowski, Canwood 4-H Light Horse Club
REINING
SENIOR Brittany Krammer, RRRR 4-H Multiple 4-H Club
INTERMEDIATE Jayde Dewhurst-Martin, RRRR 4-H Multiple 4-H Club
JUNIOR
HI-POINT PERFORMANCE JUNIOR: Payten Keyowski, Canwood 4-H Light Horse Club
HI-POINT PERFORMANCE INTERMEDIATE: Jayde Dewhurst-Martin, RRRR 4-H Multiple 4-H Club
HI-POINT PERFORMANCE SENIOR: Brittany Krammer, RRRR 4-H Multiple 4-H Club
SHOW TITLE: 4-H LIGHT HORSE SHOWCASE (DAY 2 )
July 5, 2018
COMMAND
SENIOR Jenna Bernauer, Carlton Trail 4-H Light Horse Club
INTERMEDIATE Lisa Bannerman, Equine Elite 4-H Light Horse Club
JUNIOR Makayla Bueckert, Herds of Thunder
QUADRANGLE RACE
SENIOR Jenna Bernauer, Carlton Trail 4-H Light Horse Club
INTERMEDIATE Cassidy Somers, Eagle Hills Multiple 4-H Club
JUNIOR Beth McCoshen, RRRR 4-H Multiple Club
BARREL RACING
SENIOR Jenna Bernauer, Carlton Trail 4-H Light Horse Club
INTERMEDIATE Shayla Preston, Equine Elite 4-H Light Horse Club
JUNIOR Lisa Bannerman, Equine Elite 4-H Light Horse Club
POLE BENDING
SENIOR Jenna Bernauer, Carlton Trail 4-H Light Horse Club
INTERMEDIATE Jayde Dewhurst-Martin, RRRR 4-H Multiple Club
JUNIOR Skyler Preston, RRRR 4-H Multiple Club
KEYHOLE RACE
SENIOR Keeley-Shae Somers, Eagle Hills Multiple 4-H
INTERMEDIATE Cassidy Somers, Eagle Hills Multiple 4-H Club
JUNIOR Tessa Letendre, Equine Elite
STAKE RACE
SENIOR Jenna Bernauer, Carlton Trail 4-H Light Horse Club
INTERMEDIATE Lisa Bannerman, Equine Elite 4-H Light Horse Club
JUNIOR Beth McCoshen, RRRR 4-H Multiple Club
SINGLE BARREL & BOX RACE
SENIOR Jenna Bernauer, Carlton Trail 4-H Light Horse Club
INTERMEDIATE Lisa Bannerman, Equine Elite 4-H Light Horse Club
JUNIOR Skyler Preston, RRRR 4-H Multiple Club
HI-POINT JUNIOR GYMKHANA: Skyler Preston, RRRR 4-H Multiple Club
HI-POINT INTERMEDIATE GYMKHANA: Cassidy Somers, Eagle Hills Multiple 4-H Club
HI-POINT SENIOR GYMKHANA: Jenna Bernauer, Carlton Trail 4-H Light Horse Club