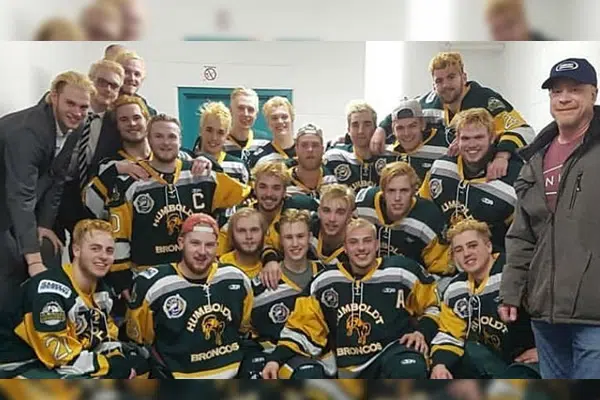 The victims of the Humboldt Broncos hockey team bus crash may soon get interim payments from a fundraising campaign that has collected $15.2 million. The non-profit group that administers the fund is asking the Saskatchewan Court of Queen's Bench to approve initial payments of $50,000 each to the 13 survivors and families of the 16 people who died.
An affidavit from Darren Duell, president of the Humboldt Broncos Memorial Fund Inc., says the families have had to deal with travel costs, time off work and other issues. The affidavit says some families associated with players and staff of the Saskatchewan Junior Hockey League team are in urgent need of funds.
The GoFundMe campaign was created immediately after the April 6 crash and received donations from across Canada and other countries. The money has been transferred to the non-profit corporation and is expected to be distributed to victims in the coming months.
At an August 13, 2018 hearing, the Court will be asked to make an Order:
(a) Appointing the five-member advisory committee to help determine the appropriate division of
the funds:
• Dennis Ball (Regina, SK) – a recently retired Saskatchewan Court of Queen's Bench Judge
• Hayley Wickenheiser (Calgary, AB) – former Canadian Women's Olympic Hockey Team 4-
time Gold Medalist
• Mark Chipman (Winnipeg, MB) – Board Chair, True North Sports + Entertainment which
owns the NHL's Winnipeg Jets
• Dr. Peter Spafford (Saskatoon, SK) – Surgeon and Department Head at the University of
Saskatchewan College of Medicine. Former U of Saskatchewan Huskie Hockey Player.
• Kevin Cameron (Lethbridge, AB) – Executive Director of the Canadian Centre for Threat
Assessment and Trauma Response
• As well as three Information Resource Persons
(b) Approving the investment of the donated funds in high interest savings accounts at RBC Dominion Securities Inc.
(with files from the Canadian Press)