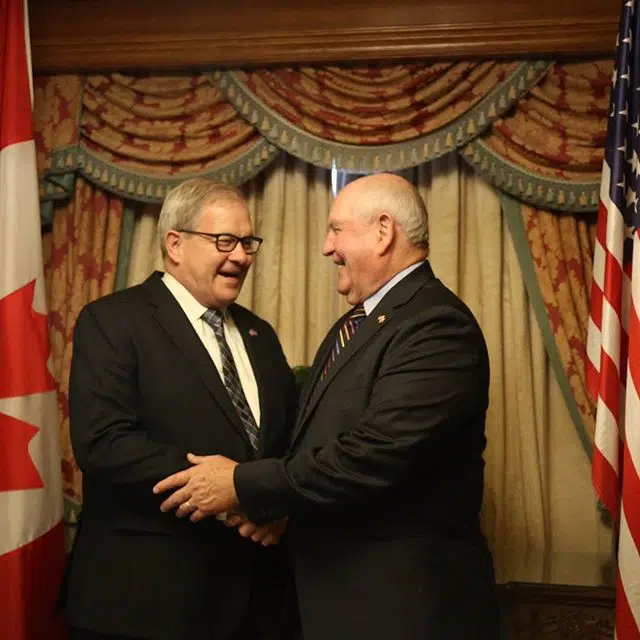 Lawrence MacAulay will host Sonny Perdue, U.S. Secretary of Agriculture, on Friday.
The meeting is an annual event between the country's top two agriculture officials and is being held in MacAulay's home province of Prince Edward Island.
The Friday agenda includes trade discussions, as well as a tour of a lobster boat and a visit to a potato farm.
The two men seem to have a good personal relationship, in spite of differences on trade between the two countries. A previous meeting in Georgia last year generated many smiling pictures and positive news releases.
This is in sharp contrast with the G7 Summit in Quebec on the weekend. President Donald Trump was very upset following the meetings, where he was criticized by the other six leaders for imposing duties on steel and aluminum.
Afterward, Trump sent several tweets complaining about unfair trade between the United States and other countries. One of the tweets called Prime Minister Justin Trudeau "very dishonest and weak." He also criticized Canada's supply management system for dairy producers. Trudeau is scheduled to meet with the Dairy Farmers of Canada on Tuesday.
After the rocky G7 summit, Foreign Affairs Minister Chrystia Freeland had a lengthy telephone conversation with U.S. Trade Ambassador Robert Lighthizer.
The U.S. Chamber of Commerce is warning about the potential for hundreds of thousands of jobs losses as the result of Trump's tariffs on imported steel and aluminum.