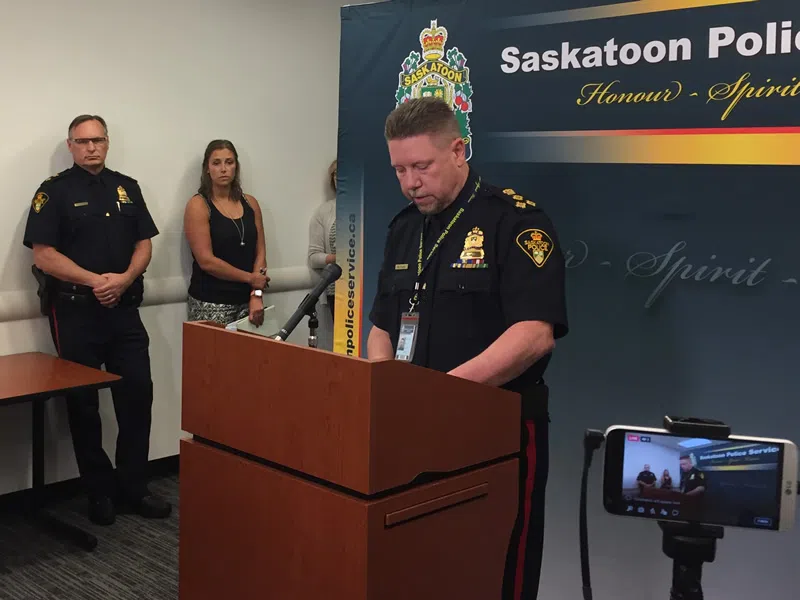 Chief of police Troy Cooper says it's the first time he's recalled an incident like this happening in Saskatoon.
That's in response to an incident over the weekend that involved an innocent 6 year old girl being bitten by an on-duty police canine while it was searching a track for two suspects in relation to a home invasion Saturday.
The girl's injuries are consistent of those of a dog between the armpit and hip says Chief Cooper.
The Chief and Superintendent Mitch Yuzdepski both say that there will be an internal investigation by the Saskatoon Police Service into the incident as well as another investigation by the Saskatchewan Police Commission.
Chief Cooper calls this incident a serious event, a terrifying event for a little girl and her family.
He says they will continue to try and reach out to the family and ensure that they're provided with victim services.
Yuzdepski says the dog received its training and has been in service for 10 months and showed no issues prior to the incident on the weekend.
Chief Cooper says the officer responsible for the dog will remain on duty and that the dog has since been relieved of its duties.
The Chief of police adds it's too early in the investigation to determine what will happen to the dog.
Cooper says the investigation will include the canine's history and the officer's actions to determine what exactly occurred Saturday afternoon.