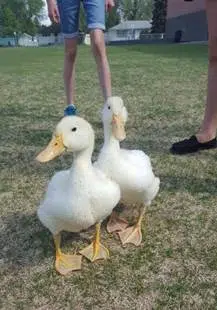 The 16th Annual Duck Launch is this Wednesday at the Hillcrest Funeral Home. And these are real ducks. It's not a fundraiser like the Lumsden Duck Derby using rubber ducks. In May, Hillcrest reached out to 10 Saskatoon schools and different classrooms welcomed pairs of ducklings for the students to raise for four weeks. The ducks are now full grown and will be taken to the pond for their first swim.
The Waddle to the Pond Parade gets underway at 12:45 and the event is open to the entire community.
A news release from Hillcrest Funeral Home says feedback from teachers indicates students have gained team building skills and taking on responsibility. They have demonstrated positive behavioral changes like improvement in self-regulating and learned empathy plus they will come to understand the underlying lesson of letting go by raising the ducks and releasing them into the pond.