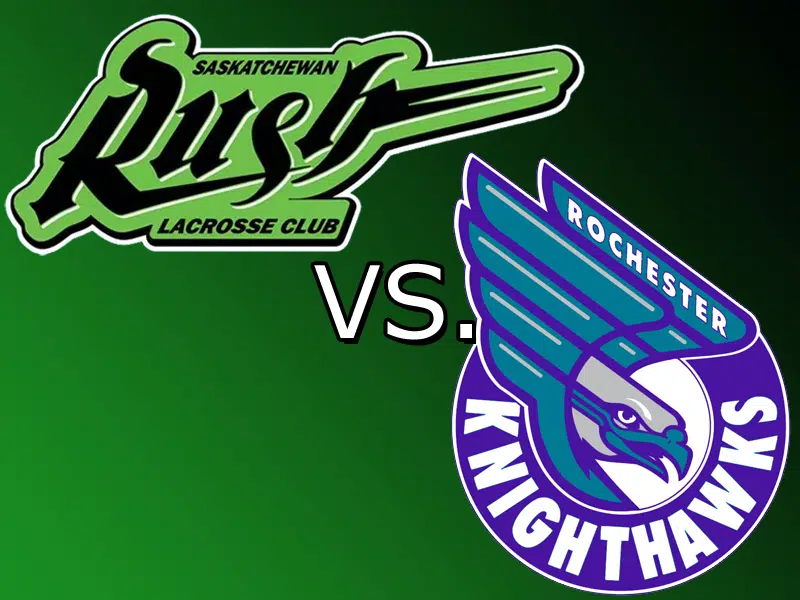 The Saskatchewan Rush have the chance to clinch their third National Lacrosse League championship in the last four years Saturday night in Rochester.
They opened the best-of-three NLL Cup final with last weekend's 16-9 win over the Knighthawks at SaskTel Centre.
Coach and GM Derek Keenan said scoring six transition goals was a huge factor.
"It's always been a big part of our team," said Keenan. The Saskatchewan bench boss added the transition game appears to be peaking at the right time.
"We weren't necessarily great the entire season but I thought as the game went on I think we wore them down, our pressure, our tempo wore them down and we ended up getting transition opportunities."
Keeping the Knighthawks to less than ten goals was another big reason the Rush captured the series opener.
Defender Kyle Rubisch said their defensive game plan was to force the Knighthawks forwards to play at a higher pace and keep as many shots as possible to the outside.
"We knew we had to get out and give them a little extra pressure and kind of give them contested shots." said Rubisch who pointed out their last line of defense was there when they needed him.
"They got a lot of good looks and when they did Kirkie (goalie Evan Kirk) made big saves and that's just going to happen against a good offense like they have."
The series has been billed as a goaltending battle between Kirk and Rochester's Matt Vinc, who are summer league teammates. But Kirk downplayed that story line.
"It's a team game and I think we've got to take a little step back from that sort of thing, thinking about me and Veno and it's a team game and we are going to do it together and not by myself," said Kirk.
A natural hat trick by Robert Church sparked the seven goal run allowing the Rush to open a 10-4 lead early in the third quarter. Ryan Keenan who had a hat trick in game one said getting off to a good start in the potential cup clinching game is important.
"We've just got to keep the momentum going," said Keenan who felt they turned their game up a notch as the night wore on.
"We played with more energy than them in the second half and it will be tough though, they'll come out with some more spark in front of their home crowd, but you know, I think we know how to beat them now."
Saskatchewan's series opening victory was the first in three starts over the Knighthawks this season.
Game two from Rochester starts at 6 p.m. The Rush-Hour pregame show on 98-COOL signs on at 5 o'clock.