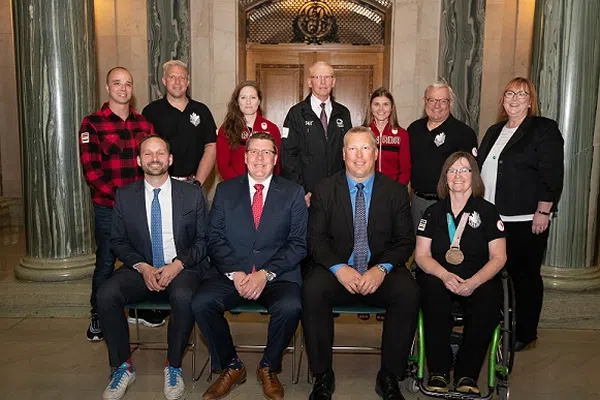 The athletes, coaches and officials who represented Saskatchewan at the 2018 Winter Olympic and Paralympic games in PyeongChang were recognized by the provincial government, Sask Sport Inc. and the Canadian Sport Centre at the Legislative Building today (Tues).
At both the Olympics and Paralympics, Team Canada set new medal count records.
Canada earned 27 medals at the PyeongChang Olympics , surpassing the record set in 2010 in Vancouver with 26 medals.
Saskatchewan's athletes and coaches held their weight with four medals contributing to the count: Emily Clark (Saskatoon) and Brigette Lacquette (Cote First Nation) competed in Women's Hockey winning silver. Linden Vey (Wakaw), Willie Desjardins (Climax), Head Coach, and Dave King (Saskatoon), Assistant Coach, earned a bronze medal in Men's Hockey, and snowboarder Mark McMorris (Regina) along with his coach Adam Burwell (Regina) brought home bronze in Men's Slopestyle.
2018 Winter Olympic and Paralympic Games – Saskatchewan Connection:
2018 Winter Olympic Athletes
Men's Bobsleigh
Ben Coakwell (Moose Jaw)
Men's Curling
Ben Hebert (Regina)
Men's Hockey
Linden Vey (Wakaw) – BRONZE
Men's Snowboard
Mark McMorris (Regina) – BRONZE
Speed Skating
Kali Christ (Regina)
Marsha Hudey (White City)
Women's Hockey
Emily Clark (Saskatoon) – SILVER
Brigette Lacquette (Cote First Nation) – SILVER
2018 Winter Paralympic Athletes
Para Alpine
Kurt Oatway (Regina) – GOLD
Para-Nordic
Brittany Hudak (Prince Albert) – BRONZE
Para Snowboard
Curtis Minard (Weyburn)
Wheelchair Curling
Maire Wright (Moose Jaw) – BRONZE
2018 Winter Olympic and Paralympic Coaches and Official:
Ken Babey – Head Coach, Para Ice Hockey (Saskatoon)
Wayne Kiel – Head Coach, Wheelchair Curling (Balgonie)
Willie Desjardins – Head Coach, Men's Hockey (Climax)
Dave King – Assistant Coach, Men's Hockey (Saskatoon)
Adam Burwell – Snowboard (Regina)
Morgan Alexander – Bobsleigh (Regina)
Lyndon Rush – Bobsleigh (Humboldt)
Ken McArton – Curling, Game Umpire (Dilke)
Other
Kaspar Wirz – Para-Nordic Coach, Republic of Korea (Saskatoon)
Kelly Schafer – Curling, Team Scotland (Swift Current)
Gerry Adam – Women's Curling Coach, Team Switzerland (Yorkton)