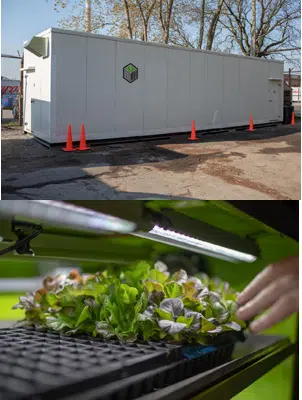 The potential for what they can grow is immense and the learning experience is all-encompassing for the student body in La Loche allowing children in every grade to participate in the modular farm under the guidance of the science teacher.
Lisa Battistelli, Executive Director for Loblaw's President Choice Children's Charity, says for the first time ever their organization is providing a school with a modular farm and all the inputs. That school is in La Loche where the charity already supplies the funding for the school's breakfast and lunch program. She gives an example of what the farm can produce in terms of volume and says if they were only growing cherry tomatoes, in the entire farm, they could get about 6000 cherry tomatoes weekly.
Battistelli says when Modular Farms and PC Children's Charity went to  La Loche, the representatives from Modular Farms brought along virtual reality glasses and the students were amazed. When told there was room at the farm to experiment, one of the popular choices was to try and grow watermelon.
The farm will be dropped in La Loche in mid-June and students will be finishing up for the school year so planting is expected to commence in September.
This modular farm is housed in a sea container and Battistelli says, over the summer, there are plans for the outside of the modular farm, "They're going to use the outside of the container like a canvas and do some artwork on it just to make it their own, and decorate the outside."
A modular farm is different than a green house because they are not growing in soil and it works on a hydroponic closed loop system that uses 95% less water than your typical outdoor farm. The goal is to have a farm which can supply the school with all its produce for the breakfast and lunch programs.  The $220,000 cost is being covered by an Innovation Grant from President's Choice Children's Charity.