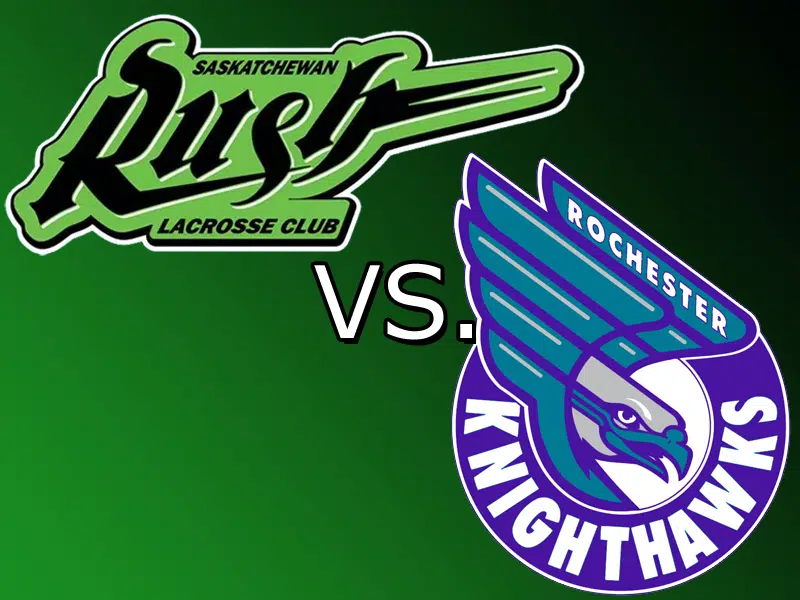 The Rush are one win away from winning their second National Lacrosse League title in three years after the Rush took game one of the best of three NLL Final from the Rochester Knighthawks 16-9 last night. Robert Church had a four-goal night for the Rush, while Ryan Keenan had a hat trick. Ben McIntosh and Jeff Cornwall each had a pair of goals for Saskatchewan, while Jeremy Thompson, Mark Matthews, Marty Dinsdale, Matt Hossack and Mike Messenger had singles. Rush Head Coach Derek Keenan says his team played well following the game 1 victory at home but the focus is already on next week's game 2.
"I thought we played really well, complete effort right from the beginning of the game, had really good energy. Of course the jobs not finished so we'll focus on that almost immediately and we're going to have to be even better cause they're (Rochester) desperate, they're backs are to the wall and I think we're going to have to be even better next week against them."
Rush goalie Evan Kirk turned away 36 shots in the victory. He says the win feels good but they got to be ready to go next week in Rochester.
"It feels awesome but I mean we got a lot of work to do. It's obviously a good team and they need to bounce back so they're (Rochester) going to give it everything they got, it's do or die so we got to be ready to go next week."
Saskatchewan will try to sweep the best-of-three series when the Knighthawks host Game 2 in Rochester next Saturday. Next Saturday's broadcast begins on 98 Cool with the Rush Hour Pre-Game Show starting at 5 p.m.