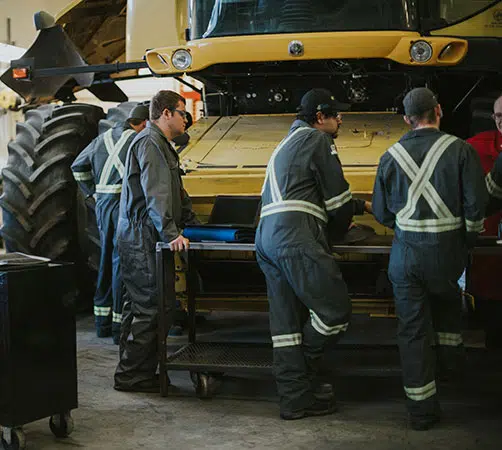 Agricultural equipment dealers are working with Saskatchewan high schools to find a new generation of employees.
Most of the 125 farm dealerships in the province have at least one or two openings for agricultural equipment technicians (AET).
"Where dealers use to get people walking in the door looking for jobs, now they are having to go search for them," says Larry Hertz, vice president, Canada for the Western Equipment Dealers Association (WEDA).
Hertz adds there will be additional openings in the future as current employees begin to retire.
How Does The Program Work?
Discussions started last spring between WEDA and the Sun West School Division to develop an online elective program for Grade 11 and 12 students across the province.
The Sun West School Division is based in Rosetown, but has a Distance Learning Centre (DLC) in Kenaston, about 80 kilometres south of Saskatoon. The DLC offers more than 160 online courses ranging from Kindergarden to Grade 12.
The Agricultural Equipment Technician program https://sunwestdlc.ca//course/agricultural-equipment-technician-20l has three components; 50 hours of on-line instruction, a 40 hour practical work study at a local agriculture dealership and a two-day boot camp at Sask Polytechnic in Saskatoon, where the post-secondary training occurs.
New Program Attracting Student Attention
Darren Gasper, a Sun West Superintendent, says more students are looking at the trades as an alternative to university.
"I think students are realizing there are some well-paying careers in the trades. They certainly have an appeal for kids that realize that they can get a great career right in their local community. That's a real plus for them."
The Sun West School Division held a career fair in Rosetown and more than 40 students expressed an interest in the program and toured a local dealership.
Wide Ranging Career Opportunities
The new course is not restricted to students with farm experience or rural backgrounds. Those with an interest in computers, electronics and new technology are an excellent fit.
"There are computer controlled engines and transmissions, advanced electronics, onboard GPS," says Tyson Friend, Service Manager at a farm equipment dealership in Outlook, SK. "We use computers and diagnostic software to solve problems with all kinds of equipment.
In addition to agricultural equipment technicians, dealerships also need parts and sales people. The new course will cover all aspects of the business.
Hertz says agricultural equipment dealerships remain a male dominated industry, but he would like to see that change.
"I know well over 50 per cent of students in university agronomy and agribusiness programs are female and I would like to the same thing happen in the farm equipment industry."
Hertz also wants the Saskatchewan program to become a model for other provinces and U.S. states in the future.
Additional Online Agriculture Education Opportunities
The SunWest DLC also offers a number of online agricultural courses on food production,
cow-calf production https://www.sunwestdlc.ca/course/tags/calf, and horses.
Bottom Line
"There are great opportunities to enjoy a fulfilling career at an agricultural equipment dealership while earning an above average income in your local community or in a major centre," says Hertz.