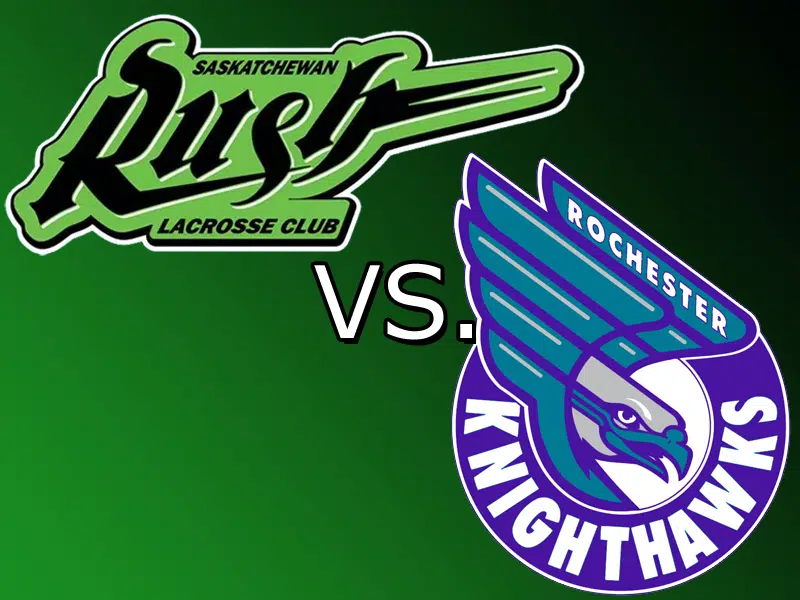 The Saskatchewan Rush have worked all season to get here.
Coaches, players and staff alike have talked about the goal of recapturing the National Lacrosse League championship since last year's loss to Georgia in the final denying Saskatchewan of a third straight title.
Game one of the best of three NLL Cup championship series is Saturday night at SaskTel Centre against the Rochester Knighthawks.
Despite finishing first in the West Division and overall standings, the Knighthawks beat the Rush in both head-to-head meetings this season. However Coach and GM Derek Keenan said they were sub-par performances.
"We didn't dictate tempo against them on defense like we typically do and we didn't pay the price enough on offense." said Keenan.
Keenan pointed out the Knighthawks are a worthy opponent and are Eastern Champions for a reason.
"They're a big physical team, you know we've got to use out speed, we want to play fast'" said Keenan who added goaltending will be crucial as the Knightawks are strong between the pipes.
"(They have a) great goaltender in Matt Vinc and we've got a good goaltender as well (Evan Kirk)."
Saskatchewan's top point man and offensive leader Mark Matthews added this is the championship series and the regular season is ancient history.
"We've just got to play our game, sure they beat us twice but it really means nothing in playoffs, anything can happen." said Matthews.
Both teams have had an extra week to prepare for the championship series. Keenan said bye-week's have been common place for the Rush this season and although Rochester has a slight advantage in bye-week situations, the series will not be won on the practice floor.
"Their advantage is of course everybody (the players) lives there and they could practice mid-week, but I mean at this stage it comes down to execution and you know, who wants it and I'm sure both teams want it badly"
Defender Ryan Dilks suggested the Rush are a collection of talented veterans who have been together for years and know what it takes to win. Dilks added they remember all too well how it felt losing the title last season after back-to-back championships and don't want to go through that again. However, he pointed out Rochester will be a formidable opponent.
"We're going to have our hands full," said Dilks. "They're a good squad as you can see, they came here and not many teams beat us in our home rink so, we have to prepare and execute because if we don't, we're going to end up on the wrong end of the stick again."
Game time Saturday is 7;30 p.m., with the Rush-Hour pregame show on 98-COOL signing on at 6;30.