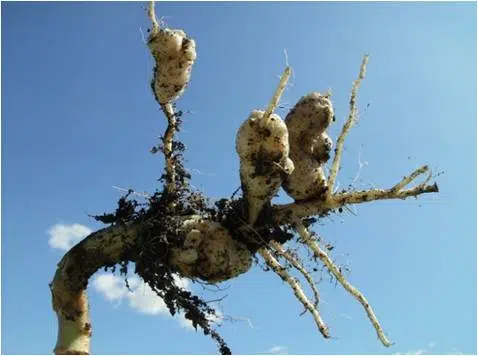 Canola growers are being encouraged to follow the lead of hog producers and develop a biosecurity plan.
Cleaning soil off equipment when moving between fields minimizes the spread of clubroot spores.
The disease is fairly prevalent in Alberta and there were a handful of confirmed cases in northwest and north-central Saskatchewan last year.
Mike Harding is a research scientist in plant pathology with Alberta Agriculture.
"You have to have a plan before the pest (clubroot) is introduced because you can't avoid something that is already there. It is really a good time for growers that don't have clubroot issues to consider what they are going to do to try and minimize the risk of  it spreading to their farm."
The gold standard is a rough cleaning of equipment that removes 90 to 95 per cent of soil. That is followed by washing with compressed air or a pressure washer and a mist-on disinfectant contain bleach.
That type of cleaning takes time and during busy seasons may not be possible. Harding says any type of cleaning is beneficial.
"We know it's not possible to do every single biosecurity practice every time you exit a field. It's okay not to do everything, but when it comes to things like clubroot, it's not okay to do nothing."
Harding says spending as little as 10 to 15 minutes knocking off soil before leaving a field is beneficial.
He adds a good biosecurity plan can also prevent the spread of problem weeds and aphanomyces in pulse crops.
More information is available at
http://www.canolawatch.org/2018/05/02/biosecurity-for-field-crops-why-and-how/