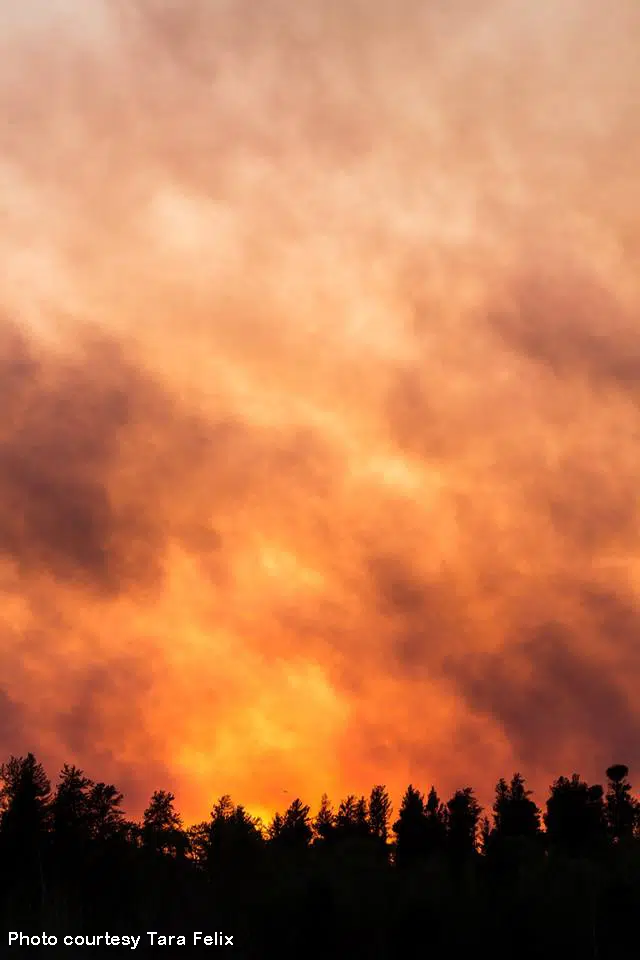 An evacuation has been ordered for some residents in the RM of Shellbrook because of the Rally Fire, west of Prince Albert and southwest of Holbein.
Sask Alert says those in the Hamlet of Crutwell need to evacuate immediately, and the same goes for homes north of there to Highway 3.
Those who are self-evacuating should go through Highway 3 to the Shellbrook Senior Hall to register and receive further instructions.
If you need help to evacuate, call 306-747-2178.
The Alert also says residents in Holbein and south of Highway 3 between that community and Crutwell are NOT ordered to evacuate at this time, but should be prepared, should the situation escalate.
There are helicopters and air tanker support, heavy equipment and over 60 personnel directly involved in the forest fire fight. The executive director of wildfire management stated around 5 Monday afternoon that the Rally Fire was still not contained.  Steve Roberts says the blaze breached the fireguard to the east and is about 5 kilometres from the Village of Crutwell. Out of an abundance of caution, it was decided an evacuation order would be issued. Crews are concentrating on that area.
It's estimated he forest fire is about 15-hundred hectares in size, which sounds large, but to paint a picture, it would actually fit inside the City of Prince Albert.
It's expected the fire was human caused because there was no lightning in the area.
Roberts reports 142 wildfires so far this season with the 5 year average at 81.
He says it was a later start to the year with snow late in the season, but then it was a quick melt with not much rain and lots of wind.
There are 14 active fires in Saskatchewan right now, with 3 not contained.