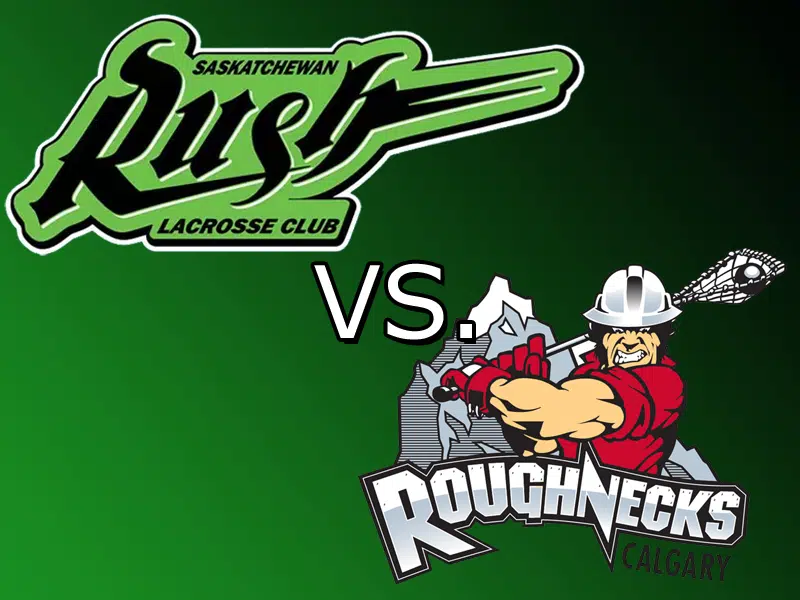 The Saskatchewan Rush are going to their fourth straight National Lacrosse League final.
A SaskTel Centre crowd of 11,568 saw the Rush open leads of 7-3 in the second quarter and 14-9 in the fourth before holding off Calgary 15-13 in the West Division final.
The turning point came just past the six minute mark of the third quarter when Robert Church ripped a shot off the bar on a play ruled no-goal on the floor. Rush Coach and GM Derek Keenan challenged the call which was overturned after officials looked at the video.
The goal which was the second of three on the night for Church, killed Calgary's momentum and sent the Rush on a four-goal run. The Roughnecks had scored three quick goals to open the second half tying the game 8-8.
Keenan was confident the call would be overturned.
"I thought it went in even from the bench," said Keenan. "I see them in practice all the time, it's kind of bar down and over the line and when Robert and Bennie (Ben McIntosh) said it was in and I just threw it (the challenge flag) right away."
Keenan was pleased with the team's energy, compete level after giving up the lead and their ability to finish plays. He wasn't pleased with the officiating, especially late in the fourth quarter when Calgary scored three power play goals to make the game tight.
"The five minute call, (major against Adrian Sorichetti) probably not even a penalty, how they continue to buy guys throwing their heads back is just beyond me," said Keenan. Calgary scored twice on that advantage.
Ryan Dilks who scored twice including the deal-sealer into an empty net with three minutes remaining said they knew the Roughnecks would battle to the end.
"They did the exact same thing to Colorado so, they're a good team, they didn't quit once and they pushed back a little and we held them off in the end," said Dilks.
Mark Matthews led the Rush attack with two goals including the winner and five assists including two great back-door passes converted by Ben McIntosh on two separate power plays. McIntosh also scored three times.
The game wasn't as close as the score indicated as the Rush out shot Calgary 60-46 and out chanced them by a wide margin.
The Rush now prepare for game one of the best of three final against Rochester. The series opens May 26 at SaskTel Centre.