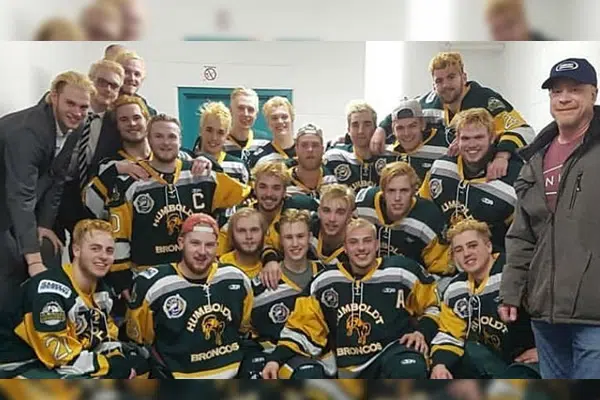 It's my Parting Shot to talk about a sad, yet uplifting Monday afternoon…
       It was sad because about three-thousand people turned up at SaskTel Centre to pay their respects and grieve with the family of Evan Thomas…a Saskatoon kid, taken away from his family and friends and the world, in general, far too soon!
       It was uplifting to see all those people…and the attention they paid to the Thomas and Ellard and Matheson families who poured out their hearts and souls in wave after wave of raw emotion! The stories and the messages of love directed at Evan Thomas' spirit were too much to handle for many non-family members to handle…my wife included, who has had a difficult time coming to grips with this tragedy because I ride a bus, winter-after-winter with a hockey team just like Evan Thomas, Tyler Biber and the entire Humboldt Broncos team!
       I was heartened to shake hands with Rob Muench, the mayor Humboldt…who has been a pillar of strength and has represented the city so beautifully in this time of tragedy. He is the spitting image, albeit a taller version, of Kevin Muench, the W-H-L's Director of Officiating. They are cousins. I was also pleased to see Jack McLeod, Daryl Lubienecki, Lorne Molleken, Russ Walker, Jerome Engele and Paul Buczkowski in attendance…all former General Managers, coaches and players of the Saskatoon Blades. The Saskatoon hockey community, in general, was out in full force…which was uplifting to see!
       The only problem, as has been told to me far too many times at funerals and memorials, we tend to meet up with friends and acquaitances we haven't seen in a long time at events due to a tragedy! Once again, prayers and sympathies go out to the families and friends of all members of the Humboldt Broncos and the community…that can't be said enough!
       That's my Parting Shot, I'm Les Lazaruk…