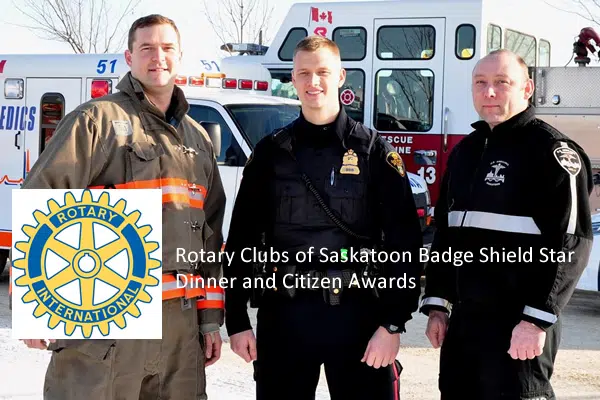 The recipients of the Rotary Clubs of Saskatoon Badge Shield Star Dinner & Citizen Awards include a woman who works to help youth stay safe, a volunteer who has been integral with a fire safety and fall prevention program for older adults and a woman who saved someone's life who had fallen through the river ice.
Heather Miller will be presented the Badge Award by Saskatoon Police Chief Troy Cooper.
The Saskatoon Fire Department's Shield Award will be presented to Janet Barnes by Fire Chief Morgan Hackl and Medavie Health Services West presents the Star award to Hayley Hasseln.
The Dinner is tonight (thurs) at Prairieland Park with proceeds going to a high school program which helps troubled youth, and they are available through the website www.picatic.com
Here is a bit more detail on the three recipients – Heather Miller, Janet Barnes and Hayley Hasseln – from a news release about the event:
"Heather Miller will be presented with the Badge Award by Saskatoon Police Services Chief Cooper. Heather is the Manager of Service Delivery at Child and Family Services with the Ministry of Social Services and has been a major contributor in creating a strong and healthy partnership between the Police Service and the Ministry. She believes in providing a united front and brought a balance of encouragement, support and enforcement when dealing with high-risk youth. The spectrum of her work has allowed her to effectively develop protocol in helping youth stay safe while continually working in partnership with the Police Service. She has been heavily involved in a number of projects, including; the HUB, Community Threat Assessment and Support Protocol and the Strengthening Families program.
In 2016, the Saskatoon Fire Department and SCOA partnered to initiate Remembering When, a fire safety and fall prevention program for older adults. Janet Barnes will be presented with the Shield Award by Saskatoon Fire Department Chief Morgan Hackl.
Janet's insights, knowledge and connections, as well as countless volunteer hours, are making the program a success. Remembering When utilizes group presentations but also focuses on individual home visits, including referrals and follow-up, to help older adults proactively prevent falls and fires.
This year Medavie Health Services West will be recognizing an individual for their efforts in saving the life of a 28-year old female. Hayley Hasseln was walking her four dogs on a Sunday afternoon at the Silverwood Dog Park when she heard screaming coming from the river. Hasseln walked down the hill and saw a woman clinging onto the edge of the ice, Hesseln broke off a nearby stick and pulled the woman out. The woman had fallen into the ice after trying to rescue two dogs who chased some geese onto the ice and fell through.
The Rotary Badge, Shield and Star Dinner will be held at 6:30 p.m. on Thursday, April 12th at Prairieland Park, Hall B, with awards to follow at 7:50 p.m. Tickets are available for purchase at https://www.picatic.com/BadgeShieldStar2018."