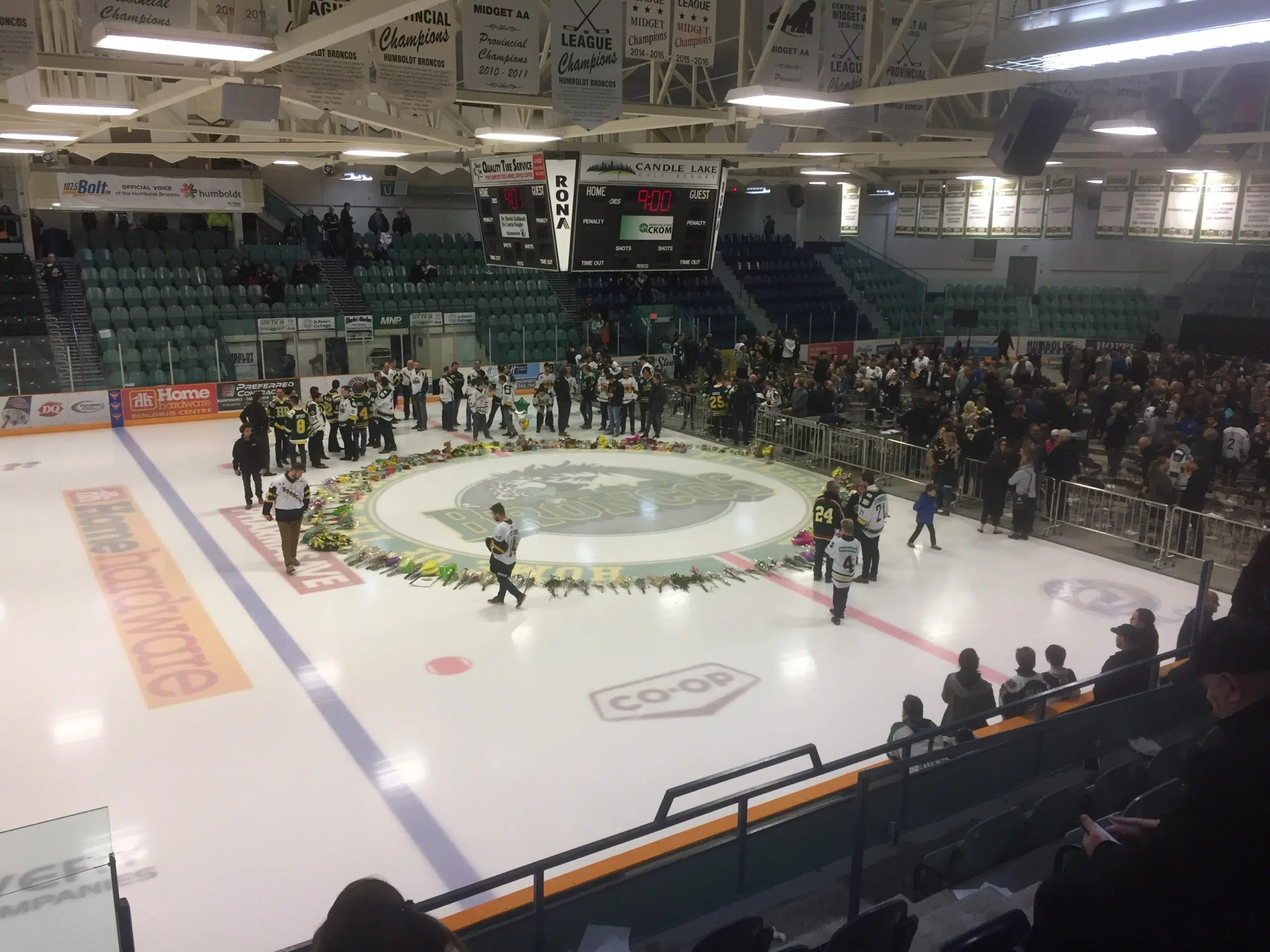 In one of the most emotional addresses of the night at the vigil in Humboldt team pastor Sean Brandow told the capacity crowd that, "I don't want to be here. I really don't want to be here but it's good that we are."
He says he arrived on the scene shortly after the Humboldt Broncos team bus collided with a semi tractor trailer at the intersection of Highways 35 and 335.
"And walked up to a scene I never want to see again. To sounds I never want to hear again."
He said to hear fear, distress, pain and seeing nothing but anger, fear, and confusion…all he could feel was darkness. Brandow pointed to the thousands of texts of support he received and he said that is what is needed to find some light in a dark time.
"You family members, you need that. You need to hear that people love you, that people care, that people are praying, that you are supported…that you are loved, you will be looked after in the future. Those are important things."
Photos of the 15 dead and the 14 injured from the highway crash were placed on stands in the arena as loved ones listened to prayers and hymns. Prime Minister Justin Trudeau, Premier Scott Moe and hockey commentators Don Cherry and Ron MacLean, as well as former NHLers who were in the 1986 bus crash that claimed the lives of 4 Swift Current Broncos, were among the thousands gathered at the hockey arena in Humboldt last night.
Flags were lowered to half mast on the weekend at all Saskatoon civic facilities to honour the 15 people killed in the accident between the Humboldt Broncos team bus and a semi tractor trailer late Friday afternoon. Flags will remain at half mast today on Saskatoon civic facilities as part of the National Day of Remembrance of the Battle of Vimy Ridge which is today.The Battle of Vimy Ridge took place in 1917 and was the first time all four divisions of the Canadian Corps went into battle together. Meanwhile, the Saskatchewan government will fly flags at the Legislative Building and all provincial government buildings for the next 15 days in memory of the 15 lives lost after the accident involving the Humboldt Broncos team bus.