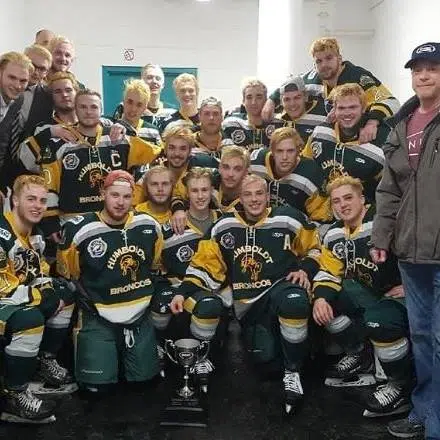 RCMP sent this release this morning on behalf of the Ministry of Justice:
"Last night it was discovered that two members of the Humboldt Broncos Junior 'A' hockey team had been incorrectly identified as one another.
One of the deceased players had previously been identified as Xavier Labelle. This was an identification error and Xavier is not deceased.
Our condolences go out to the family of Parker Tobin. Unfortunately, Parker is one of the 15 that have lost their lives in this terrible tragedy. Parker had been misidentified and was previously believed to have survived.
The Office of the Chief Coroner apologizes for the mis-identification and any confusion created by it."
Those killed in the Friday crash:
Players
Adam Herold – 16-year-old from Montmartre, SK
Connor Lukan – 21-year-old from Slave Lake, AB
Evan Thomas – 18-year-old from Saskatoon, SK
Jacob Leicht – 19-year-old from Humboldt, SK
Jaxon Joseph – 20-year-old from Edmonton, AB
Logan Boulet – 21-year-old from Lethbridge, AB
Logan Hunter – 18-year-old from St. Albert, AB
Logan Schatz – 20-year-old from Allan, SK
Stephen Wack – 21-year-old from St. Albert, AB
Parker Tobin – 17-year-old from Stony Plain, AB
Team Personnel
Volunteer Team Statistician Brody Hinz – 18-year-old from Humboldt, SK
Head Coach Darcy Haugan – 42-year-old from Humboldt, SK
Bus Driver Glen Doerksen – 59-year-old from Carrot River, SK
Assistant Coach Mark Cross – 27-year-old from Strasbourg, SK
Play-by-play announcer Tyler Bieber – 29-year-old from Humboldt, SK