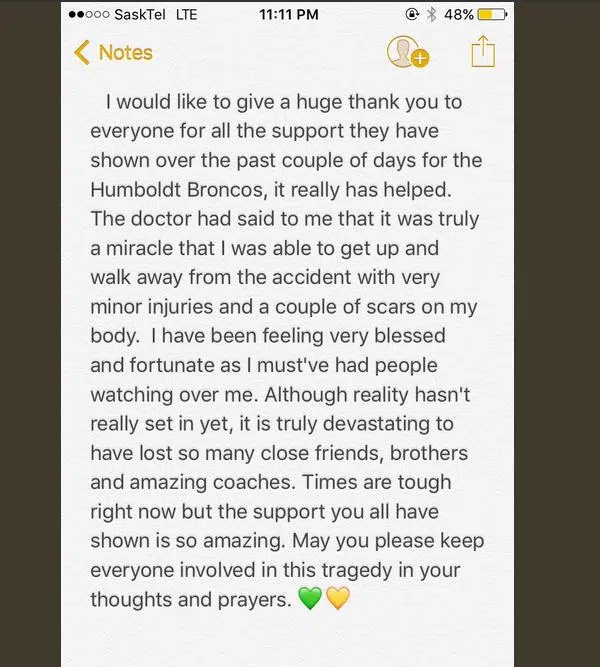 Humboldt gathered together as a community Sunday night trying to find solace in words of condolence and comfort at a vigil that filled their rink to capacity.  The same rink where Game 6 of a semifinal SJHL game would have been played Sunday night but instead the world as Saskatchewan knows it ground to a halt on Friday when the Humboldt team bus and a semi tractor collided at the junction of Highway 35 and Highway 335.  One of the 14 others on the bus who was injured was Nick Shumlanski. He was released from hospital Sunday and attended the vigil wearing his team jersey.
On a further community note, Federated Cooperatives Limited has teamed up with SJHL and Co-ops across Canada have donated $150,000 to a Players Support Program.  FCL has matched that and now the fund is north of $300,000.
For those touched by this tragedy struggling with their grief  there are counselling supports available in Humboldt.  On Monday at Partners Family Services – 905-5th Avenue, Humboldt and Horizon School Division South Office – 10366 8th Avenue, Humboldt. Anyone in the community of Humboldt needing support can come to either location. Counsellors will be available starting at 11:15 am Monday.