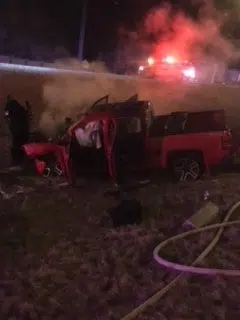 Saskatoon Police officers raced to rescue the driver trapped in a burning vehicle after a multi vehicle crash Sunday morning.  Police say just before 3 this morning, a westbound pickup truck collided with several other vehicles before leaving Circle Drive, going up the embankment, launching through the barricades and over the four lanes of Preston Avenue for north and south bound traffic, then came to rest west of the overpass where it then burst into flames. Saskatoon Police were first on scene and saw the cab of the truck engulfed in flames but were able to pull the driver out. Medavie Ambulance rushed him to hospital where his condition is unknown.
As Saskatoon Police and a Saskatoon Fire Department fire investigator continue to investigate, the access ramp from southbound Circle Drive to westbound Circle Drive, north of the cloverleaf, is currently barricaded. Motorists will have to either exit southbound Circle Drive at Taylor Street East and transit through Eastview via Taylor or Louise Streets, or proceed southbound to the Vic Boulevard overpass, turn around to head back northbound and take the westbound Circle Drive exit at the cloverleaf, to resume travel westbound on Circle Drive.
The second restriction involves north and southbound traffic on Preston Avenue South. Motorists will be unable to proceed south into Stonebridge from Eastview, nor north into Eastview from Stonebridge. Motorists instead will have to proceed into Stonebridge via Vic Boulevard or Clarence Avenue South.