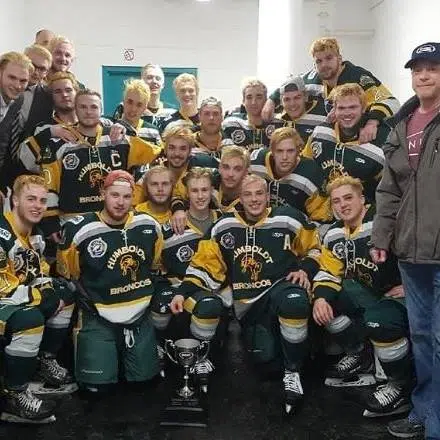 The Humboldt Broncos head coach and team captain are among the 15 people killed in a bus/semi-trailer collision late Friday afternoon about 30 kilometres north of Tisdale.
The SJHL team was travelling to Nipawin for a playoff game late Friday afternoon when the accident occurred on Highway 35 near the junction of Highway 335.
RCMP says 14 people are injured, including two in critical condition. The driver and lone occupant of the tractor-trailer unit was not injured.
A news conference was held early Saturday afternoon in Humboldt with representatives of the Broncos, RCMP and SJHL making public statements.
"We continue to investigate this collision and have deployed the appropriate resources and specialized investigators, including a collision reconstructionist team," said RCMP Assistant Commissioner Curtis Zablocki. "Our investigators will be looking into all aspects of this collision to determine exactly what took place."
RCMP stated 14 people died at the news conference, but that was revised to 15, following the death of another person in hospital on Saturday.
Humboldt Broncos President Kevin Garinger says "this a moment when we must come together to support, to comfort and lean on one another."
"We will never forget April 6, 2018 and we will never forget the members of our Broncos family who were taken from us and who were injured."
Garinger had special thanks for all of the paramedics, first responders, RCMP and eyewitnesses at the scene of the accident
RCMP have  released names of those who died and over the weekend many were confirmed by relatives on social media.
The crash killed Humboldt Broncos head coach Darcy Haugan, Assistant Coach Mark Cross, team captain Logan Schatz, top forward Jaxon Joseph, defenseman Stephen Wack,  Parker Tobin of Stony Plain, Logan Hunter, Conner Lukan, Adam Herold,  Forward Evan Thomas,  Jacob Leicht of Humboldt, Logan Boulet from Lethbridge, bus driver Glen Doerksen with Charlie's Charters, the team's volunteer statistician Brody Hinz, and the team's play-by-play radio announcer Tyler Bieber.
Dean Brockman was General Manager and Head Coach of the Humboldt Broncos for 17 seasons through 2014.
"It's a very tragic day and it's a very tragic loss. The saddest part is I believe it is only the beginning. There is going to be some longer days ahead. You hope the healing process starts as soon as it can."
Brockman believes Humboldt and the Broncos will bounce back from the tragedy.
"The community is very resilient. There are so many great people out there. I know it will heal and it will bounce back, probably bigger and better than it was before"
The Saskatoon Fire Department is assisting first responders affected by the crash. Three staff are holding a debrief and defusing exercise for Tisdale emergency responders. A similar session will be held on Sunday for emergency responders in Zenon Park and Nipawin.
People from across the province and around the world are expressing prayers and condolences on Twitter at #PrayForHumboldt.  The team had been scheduled to continue its playoff series at the Elgar Petersen Arena tonight (sun) but instead the arena will host a vigil.
The City of Saskatoon has lowered flags to half-mast at all civic facilities.